Homepage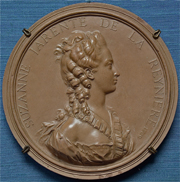 France - J.B. Nini
Welcome,
You will find here medals, plaquettes and medallions of different countries and periods, from the 15th to the 20th century.
Some pieces are not attributable and even the epoch and origin are uncertain.
If you have more information about them, please contact us via this
email
.
Do not hesitate to contact us also if you have any query.
We hope you will enjoy the visit.
Bienvenue,
Vous trouverez ici des médailles, plaquettes et médaillons de différents pays et époques, datant du 15e au 20e siècle.
Nous n'avons pas trouvé les auteurs de certaines oeuvres, ni leur origine, ou nous n'avons pas pu les dater.
Si vous avez des informations les concernant ou si vous voulez nous poser une question, n'hésitez pas à nous contacter via cet
e-mail
.
Nous espérons que vous apprécierez votre visite.